PHARR, RGV – Texas Secretary of State Carlos Cascos has signaled a direction for the Texas Border Coalition to take in order to become a much stronger advocacy group for its various communities.
In the keynote speech at TBC's latest quarterly meeting, Cascos urged the group to work on improving voter turnout along the border, to team up with other advocacy organizations, such as the Border Trade Alliance and the Good Neighbor Commission, and to look for support in Texas' major metropolitan areas, such as Houston, San Antonio and Dallas.
The Texas Border Coalition represents cities and counties from El Paso to Brownsville. In the past it has concentrated on infrastructure, transportation, immigration and border security, workforce training, healthcare, and, more recently, economic development. It has never focused on voter turnout.
In his speech, Cascos criticized those speak negatively about the border region without every visiting it.
"Someone mentioned about building walls and doing this and doing that. It is the political season. Isn't it fun to listen to? But it is very damaging. I don't believe that we live in war zone. We don't. But people are talking about the border who have never been to the border. People are making decisions about the border that have never been to the border. To me, going down for a photo op, for a one-hour photo shoot, walk around a bridge and say hello is not visiting the border. You have to know the border," Cascos said.
Cascos said too many people paint the Texas-Mexico border with a broad brush. He pointed out that border communities have differences, citing, as an example, the fact that the people of El Paso use difference spices in their food than do people in the Rio Grande Valley. "The border is very unique. The border is very vibrant," he said. "We do have a common thread, family, culture, customs. Family is a big, big, deal for everyone."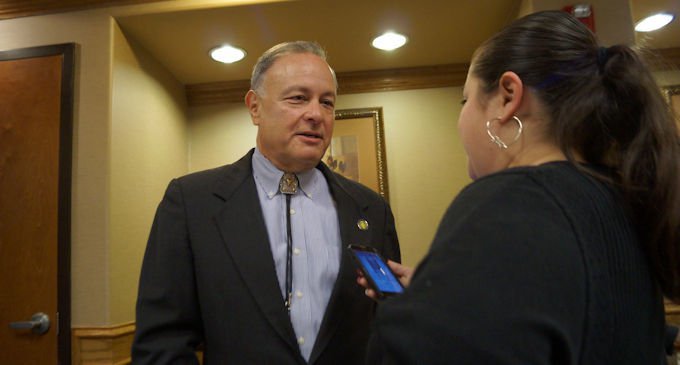 Voter Turnout
---
On the subject of the border region's historically low voter turnout, Cascos said: "Wouldn't it be nice if one day our statewide candidates and our federal candidates say something like, you've got to win the border if you want to win Texas," Cascos said, to loud applause. "Unfortunately, that is not true today. But, it can be. It can be true soon."
How can that be fixed? By the border region voting in much greater numbers, Cascos said.
"Wouldn't it be nice if one day we could say that you need to win the border to win a statewide election. We need the border to win. Well, how can we fix that? By something very simple. Something that does not cost you a dime. By voting. But yet, we are known to have some of the lowest voter turnouts in the state. Why is that?"
As Secretary of State, Cascos has responsibility over elections in Texas. "I am doing my job. I am traveling high school campuses, college campuses and talking to first time voters. Asking them, I need your help, I want you to vote. I want you to take your parents out to vote," Cascos said.
Cascos said he would bet that there were people in the room that did not vote in the last constitutional amendment election. "Eleven point five percent voter turnout is not acceptable. Texans love to brag. We are No. 1 in beef production. We are No. 1 in natural gas. We have some of the best interstate highways in the universe, we have good universities, the best universities, No. 1 in maritime, No. 1 in textiles, even No.1 in tech exports, surpassing California in 2013, 2104, and 2015. We are not No. 1 in football and we are certainly not No. 1 in voter outreach and we not No. 1 in voters. Why not?"
The reason, he said, is there is no romance in it. "We are so busy building and building and building, we are not going down to the basics. You want to be a more effective group, you encourage voter outreach," Cascos told the TBC leadership and those in the audience.
"When you leave this conference today I want you to go forth and be thinking about what I just said about, wouldn't it be nice if one day somebody did say you've got to win the border if you want to win Texas. Think about it. It is not impossible. It is not impossible to do that."
In a question and answer session after Cascos' remarks, Veronica Gonzales, vice president of the University of Texas-Rio Grande Valley, asked if Cascos would visit UTRGV and talk to students about the importance of voting. Cascos said he would be honored to.
Working together
---
On the subject of TBC working with groups like the Border Trade Alliance and the Good Neighbor Commission, Cascos said: "The Texas Border Coalition, Border Trade Alliance, there is a lot of overlapping themes. Wouldn't it also be nice if, one day, we could get all those groups together in one city and talk about the common themes. We do have a lot of commonality. We do have a lot of overlapping themes. How are we going to get where we want to be without working together? How are we going to do that?"
The Good Neighbor Commission is a new group set up through statute. The legislation was authored this past legislative session by state Sen. Eddie Lucio, Jr. Cascos said the group comprises seven mayors from the Texas border region and seven from the Mexico border region. He said has just appointed a chairman, Laredo Mayor Pete Saenz, and a vice chairman, McAllen Mayor Jim Darling. Saenz is chairman-elect of TBC and was in the audience.
Cascos recalled an example of border counties working together. He said when he was county judge of Cameron he invited his counterparts in Hidalgo, Starr and Willacy to get together. "They had never come together. They had never got together to talk. It took a Republican to get them together," he said, a remark that drew laughter from the audience. "There is no room for partisanship if you want prosperity. There is no room for that."
Cascos said that at a meeting at the Blue Onion in Weslaco, the then-four county judges – J.D. Salinas, Eloy Vera, Eliseo Barnhart and himself – spoke about issues that united their communities, such as the need to fix the border levees, healthcare for veterans, and indigent healthcare. He said they talked and talked. "If anything it just brought us together." Salinas is now chairman of TBC and was in the audience.
Reaching out
---
Cascos also encouraged TBC to reach out to the big metro areas in Texas. He said the border region's message should not simply be relayed to border legislators because they already know the issues. He said that was like preaching to the choir. Much more important, he said, was building alliances away from the border.
"Why don't we build coalitions with the big boys? Why don't we build coalitions and reach out to those metropolitan areas that we consider the big boys? Harris County, Dallas-Fort Worth, San Antonio. Reach out to them because what I have found when I speak, whether it is in Lufkin or Nacogdoches, Dallas-Fort Worth, a lot of people do not realize the importance of the border until you tell them," Cascos said.
"You reach out to Harris County, to the Greater Houston Partnership, you reach out to San Antonio, you reach out to Dallas, because everything that comes through trade, through our border does not stop here. It continues on."
Attracting business
---
Cascos also spoke about how to attract better paying jobs to the border region. He said the government's job was to ensure a business-friendly environment. He said businesses will relocate to a region if it has good schools and colleges that produce a skilled workforce, good hospitals, and a reasonable tax system. He said another thing the business community wants to see is honest government.
"It is an embarrassment at times but you have got to 'fess up to it. It is the integrity of local government. The integrity of local government is a component. They look at that. They want to see that. They do not want to come into a community and have to deal with suspects. I witnessed it first-hand. I have seen it first-hand. What is it going to cost me to come in here? That is the big elephant in the room that nobody wants to talk about. But it is important. It is not just unique to the border. I have seen it in all parts of the state. What do we do? How can we fix that?"
Cascos also spoke about the possibility of more border bridges. "Someone mentioned a few minutes ago about building more bridges. We can't handle what we have. The federal government is unable to equip and to manage and to house and to put folks there. But if we want to build more bridges, which I think in the long run is a smart thing to do, we have to make sure that our infrastructure, not only here but on the Mexican side is adequate."
Mexico matters
---
Cascos finished his speech by focusing on Mexico. He told the story of how he attended the inauguration of Nuevo Leon's new governor, Jaime Rodríguez Calderón, against the advice of many. "I was told no, don't go, nobody likes him. Well, the people of Monterrey and Nuevo Leon like him enough. We need to extend those relationships with Mexico. I believe that we need to stop painting Mexico with one broad brush. Because there are safe places to go in Mexico. There are dangerous places to go in Mexico. But there are dangerous places to go in the United States as well. You don't have people painting the United States with one broad brush and say, don't go to the U.S. because it is dangerous. Well, don't do that with Mexico."
Cascos pointed out that Texas has a 1,254-miles border with Mexico and that 63 percent of the border between the United States and Mexico is in Texas. "We have more border crossings than anyone else. But we have to continue that initiative," Cascos said. "Mexico is our largest trading partner. Even though you may hear that our trade with Mexico is in a deficit position that is not accurate. Our trade with Mexico is $195 billion going over and coming over here it is less than $90 billion. So, we are definitely not in a deficit position."
Cascos concluded his remarks by refuting the claim that he is "enamored" with Mexico. And with it he appeared to take a jab at Republican presidential candidate Donald Trump.
"I say it is not called enamored, it is called business. When you have got 500,000 jobs that are created in Texas because of direct trade with Mexico that is a big deal. When you have six million jobs created in the United States because of trade with Mexico, that is a big deal. So, when people talk and bash, look at the numbers. I would hate to be a person who would cease all trade with Mexico and have to tell six million people you're fired. I would hate to do that."
The Texas Border Coalition held its quarterly meeting met at the Hampton Inn & Suites in Pharr on February 11, 2016.
Story Source: Rio Grande Guardian